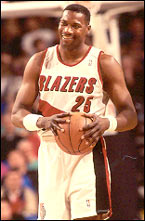 Longwood's most legendary athlete will be returning to Farmville this weekend for the Lancers matchup with the Red Hawks of Seattle. Former NBA champion Jerome Kersey will be in town for alumni day! Kersey won a title with the Spurs but is most famous for his eleven years in Portland where he was an iron man and was part of a legendary Blazers team with Clyde Drexler, Terry Porter, Cliff Robinson, and Danny Ainge.
Longwood's all-timer scoring leader Kevin Jefferson will also be in town for the event. Both Jefferson and Kersey will likely be watching Antwan Carter who is likely to surpass both on the all-time scoring list. More recent Lancers from the Division I era who will be in attendance will be Dana Smith, Maurice Sumter, and Billy Robinson Jr.  There will be an alumni game at 11 AM open to the public.
No word yet on if any of these alumni can suit up for the shorthanded Lancers.